Is your face covered by imperfections or is your hair looking awful? It used to be my problem. Hair and skin were bothering me after the winter. I'd been looking for a multitasking product that would help me out. I finally came across Nanoil Castor Oil. I'm sure you've heard of castor bean oil because it was a popular beauty enhancer in the past. Why did I choose one from Nanoil? I've seen many positive reviews online. I use it in my hair and skin care routine. Does it do well? Read my review!
Nanoil Castor Oil for hair
I use it as a deeply-conditioning hair treatment and serum for hair ends. I apply it on the scalp massaging it in to stimulate hair growth and strengthen the hair follicles. Nanoil is like a pro treatment. It clears the scalp so you'll get rid of dandruff or oily hair for sure. It made my hair shiny again, enhanced its color, and stopped hair loss. My tresses look much healthier and are stronger, and finally the daily hairstyling routine isn't irritating.
Nanoil Castor Oil for face skin
Oil cleansing method is growing in popularity, and its beneficial effect on the skin has been proven. I decided to give it a try too, and used castor oil which kills bacteria and stops inflammation, preventing acne, blackheads and whiteheads. If you get the hang of it, then the whole routine won't take long. It is the best way to improve the skin.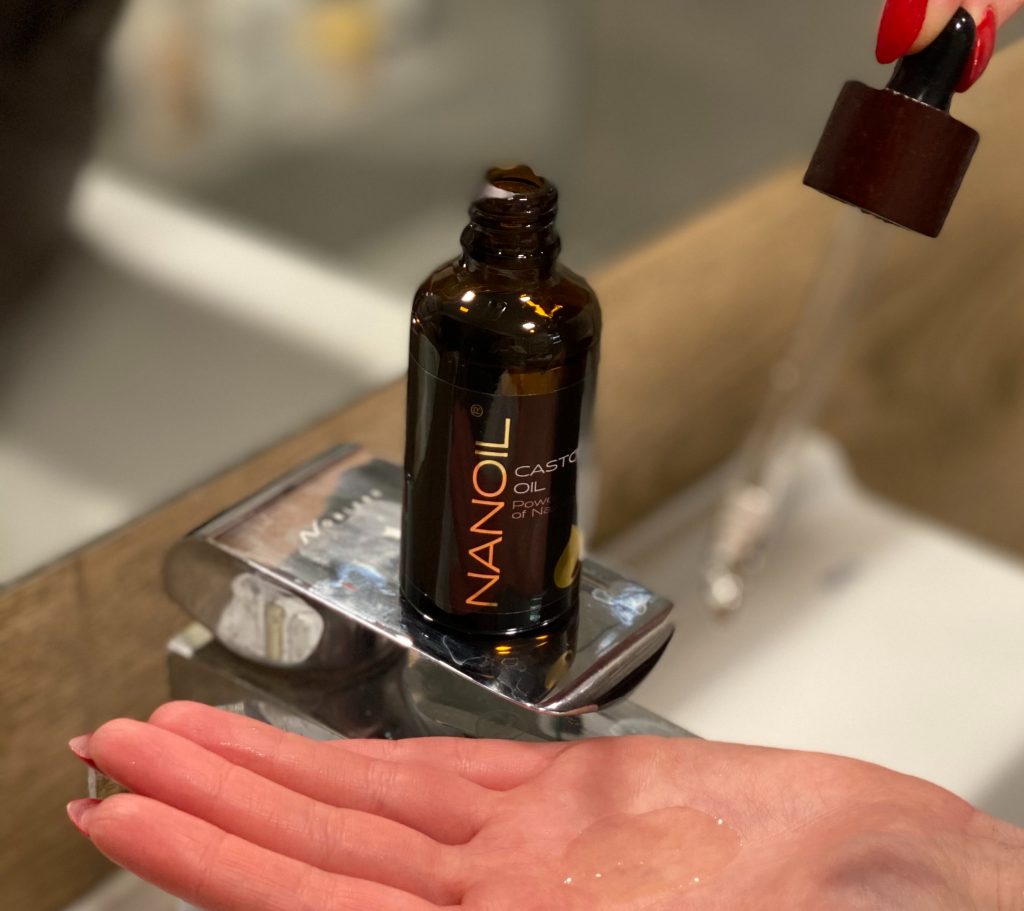 Here's what I do. I mix castor oil with some water or other oil, and massage it into the skin. I wipe it off using a cotton pad or cloth until it's clean. Oils are perfect for cleansing because they dissolve face oil, dirt and remove all toxins and pollutants that accumulate on the skin throughout the day. Castor oil is a base ingredient for the OCM blend, and it goes well with all skin types so you can be sure it won't do any harm. Nanoil Castor Oil deeply moisturizes very dry skin, and controls oil production in oily or combination complexions.
Oil cleansing method has made my skin much better – smoother and free from zits. There are no enlarged pores, and the skin is protected from pollutants and toxins. After just two weeks with Nanoil Castor Oil, my face got healthier-looking and radiant.
Benefits of Nanoil Castor Oil 
This product rocks. It is 100 percent organic, unrefined, and produced through cold pressing. The manufacturer made sure each drop of this precious oil has the greatest beautifying effect. The product has got the Ecocert label which is given to only top-quality eco-friendly cosmetic products.
As mentioned before, the oil has antibacterial and antifungal properties so it is brilliant for fighting skin problems. Nanoil Castor Oil also smooths and softens the hair, making it shine and protecting it against damage. It has a revitalizing, nourishing and hydrating effect, and stimulates faster growth of hair. It enhanced my hair color leaving it slightly darker. My bestie used it to strengthen her nails and says it's done great.
Do I recommend Nanoil Castor Oil?
Well, it's the best beauty product I've had so far. It quickly strengthened my hair, and keeps zits off my face. My skin and hair look well taken care of. I'm not surprised it's rated highly. Nanoil Castor Oil can be used in various ways and I'm sure you'll find it extremely useful. There's no other cosmetic product with so many benefits and functions.
Have I encouraged you to give Nanoil Castor Oil a try? Maybe you already have it in your beauty tool kit 😀 Why don't you share your opinion and results?