I'm big on trying and testing new cosmetic products like moisturizers or cleansing gels. When it comes to face serums, I've been using the same items for years because they work best on my skin. Obviously from time to time I get tempted and buy a new arrival, but then I'm disappointed in most cases. Here are my beloved anti-redness products that, I believe, are worth trying.
How do I use a facial serum?
No matter which product it is, I usually follow the same steps.
First, I wash and tone the face, and wait for a sec. When the face dries slightly, I apply a few drops of my serum. If it comes in a dropper bottle, I apply it directly on the face making sure the dropper doesn't touch the skin. If it has a press-on applicator, then one pump is usually enough. I move on to spreading the serum all over the face, using circular motions (it's like a massage). It takes a few minutes to sink in and then I follow with a moisturizer (SPF-rich in the morning/ nourishing cream at bedtime).
My Round-Up of Best Anti-Redness Face Serums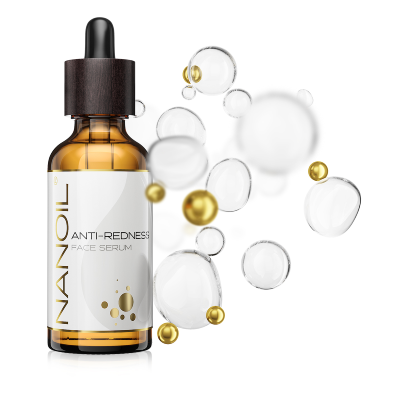 NANOIL ANTI-REDNESS FACE SERUM
Nanoil takes first place in my ranking. It's rich in 4 botanical extracts: Buckeye, Linden, Cypress and Punarnava. They make up a fantastic combo which works from the very first use, bringing relief and soothing irritated skin. The serum is very light and doesn't leave any marks on the skin. It gives me a nice cooling effect. When it comes to a more 'serious' effect, the product strengthens the blood vessels reducing dilation of capillaries and redness. The skin is no longer fragile or sensitive to the external conditions. The Nanoil Serum additionally moisturizes, nourishes, and even rejuvenates the skin, which is possible thanks to the Ayurvedic plant in the formula. I love Nanoil – it made my face both healthier and better-looking. I use it every day, sometimes both morning and evening. I totally understand why it gets so many rave reviews. Nanoil proves again that a terrific beauty product doesn't need to cost a fortune.
For more information visit – www.nanoil.co.uk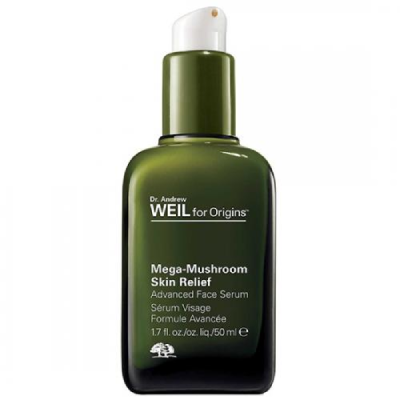 ORIGINS MEGA MUSHROOM SKIN RELIEF ADVANCED FACE SERUM
It was one of the biggest surprises as I would never expect a mushroom extract would work so great on my skin. The reishi mushrooms, infused into the formula, are called the mushroom of immortality. What about the effect on skin? They moisturize the skin, delay wrinkles, and boost the skin's immunity, but the most wanted effect is reduction of spider veins and redness. I experienced all of the benefits on my skin! Though the ingredient list is quite long, the product didn't cause any irritations. I must warn you though – the serum has an intense smell. I don't mind it because it fades quickly. The consistency is cream-like and quite thick but easy to apply. The Origins Serum is pricey. We can choose from three size versions. I chose the 50-ml bottle and it lasted me long.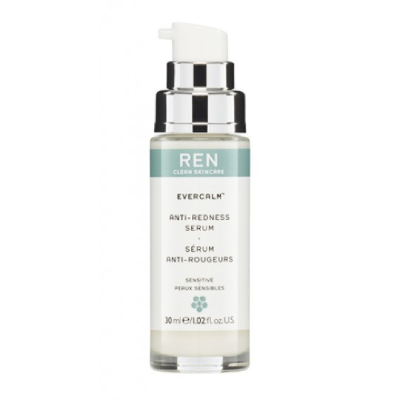 REN EVERCALM ANTI-REDNESS SERUM
I had to include REN EVERCALM ANTI-REDNESS SERUM in my round-up. Carefully-selected ingredients make up a truly effective formula. Vitamin E is blended with arnica and algae extracts to seal the blood vessels from within and make capillaries less visible on the face. It prevents further imperfections and irritations too. The skin is more resistant to the outside aggressors, plus looks healthier and more radiant. The creamy serum sinks in quite quickly but I definitely don't like the price for a small bottle. The manufacturer recommends using it with the cream from the same range but I haven't tried it.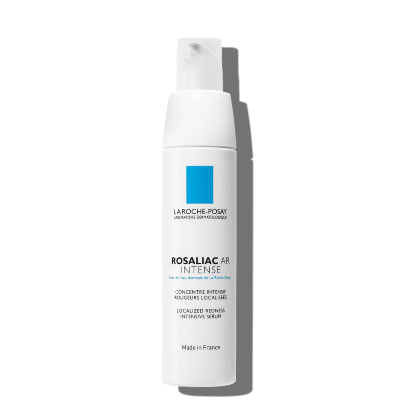 LA ROCHE POSAY ROSALIAC AR INTENSE
I'm sure you've heard about La Roche Posay. The brand offers fragrance-free skincare products and this serum isn't an exception. The formula is based on thermal water which brings instant relief, but this doesn't make the serum runny. It resembles gel but, don't worry, it isn't sticky. When it comes to the pump applicator, you must be careful not to get too much product. What about the effects? I had to wait for some big changes for several weeks but it paid off because the spider veins really got less visible. I give it an extra point for an affordable price and the 40-ml bottle.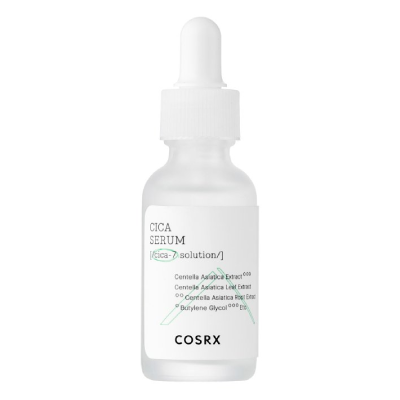 COSRX PURE FIT CICA SERUM
Let's move on to a thing for super-sensitive complexions. I read reviews saying it works well on the most delicate skin and I agree. The consistency is very light and watery, but it doesn't run down the face. Skin relief was an instant effect I spotted. It's good to have it in the bathroom in case some product gives you a strong reaction. Beyond that, the Cosrx Serum improves the plumpness and hydration in the skin. It lasts really long despite coming in a small bottle. I apply it all over the face or on the most sensitive and irritated areas.
That's the end of my round-up of the best anti-redness face serums. Let me know which products you'd add to the ranking!